Well, we certainly did not waste a penny of our recent Canada Council Audience & Market Development Travel Grant. This past June 10 – 11, we made our final trip for this project, this time to Seattle and to Portland. The objective of these trips was to develop touring and production opportunities for Re:Union, as well as to develop relationships with other theatre companies and arts-related organizations.
On June 10 we had a meeting at ACT in with the Marketing, PR, Ticketing and Production departments to get the ball rolling for the U.S. premiere, which will run January 24 – February 8, 2014. We also signed the contract with ACT making it all official. With our partners from New Century Theatre Company present, it was pretty cool to have this many Seattle professionals gathered around the conference table to discuss Re:Union.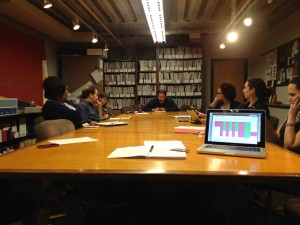 We then headed down to Portland for three exciting meetings. On  June 11 we met with Artists Repertory Theatre's Outgoing Artistic Director Allen Nause, who expressed ART's interest in mounting their own production of Re:Union in Portland.
We then met with Brian S. Willson, who has written the Foreword for the upcoming publication of Re:Union. Mr. Willson's story is as unique and as moving as the play to which he contributed the Foreword. Brian S. Willson knew Norman Morrison (the central character in Re:Union) as a child. Willson then grew up and went to serve in the Vietnam War. Upon seeing its brutality and horror, he had a complete change of heart and left Vietnam. Upon learning of the sacrifice of Norman Morrison, Brian Willson himself became a committed activist. In the mid-1980s, while trying to blockade a train from delivering munitions bound for Nicaragua, Mr. Willson lost both of his legs below the knees when the train refused to stop. We met up with him in Portland at the end of his 28-day fast in solidarity with hunger-striking prisoners in Guantanamo. We're very proud that this dedicated individual has contributed his own story to our publication and we look forward to making it available for reading on this website.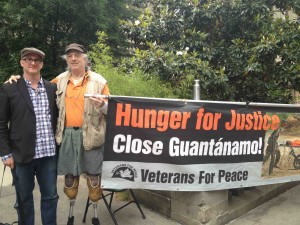 Finally, we headed up to Northeast Portland to meet up with Founder & Executive Director of Cerimon House, Randall Stuart. It's hard to describe Cerimon House other than it's own slogan: "A Sanctuary for the Humanities". But it's an old Masonic Temple that's been rescused by Randall Stuart and Cerimon House to transform it into a treasured community / cultural / cermonial hub in Portland's Alberta Arts District. If and when Re:Union gets to Portland, Cerimon House hopes to partner with ART on some of the "Pull the Pin" type of community engagement events that HHG does here in Vancouver.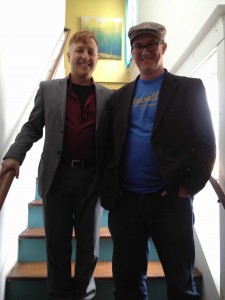 All in all, an amazing trip. On top of it all, the husband and wife team of Sean & Alexa (two of HHG's three artistic directors) got to take in the beauty and hipness of this fine American city……..which has no sales tax.