Re:Union
by Sean Devine
Original New Work
Developed by Horseshoes & Hand Grenades in partnership with Playwrights Theatre Centre and Pacific Theatre.
Premiere Production: October 21th – November 12th 2011 at Pacific Theatre.
Director: John Langs Cast: Alexa Devine, Evan Frayne, Andrew Wheeler Set and Lights: John Webber Sound: Noah Drew Video projection designer: Jason H Thompson Costumes: Flo Barrett  Dramaturg: Heidi Taylor Stage Manager: Lois Dawson
DISCLAIMER: Although 
Re:Union
 is based on certain real events, the characterizations of the persons depicted in this play are fictitious. The family of Norman Morrison has not authorized this script, nor consented to its production.   
"The world doesn't need a lot of martyrs…but it needs a few."
November 2, 1965. Norman Morrison drives to the Pentagon with his infant daughter, a jug of kerosene and a box of matches. With Secretary of Defense Robert McNamara looking on, the young Quaker carries out a final act of witness against the horrors of the Vietnam War. Thirty-six years later, in the wake of 9/11, his daughter returns to confront the aging McNamara, the memory of her father, and the costly legacy of sacrifice.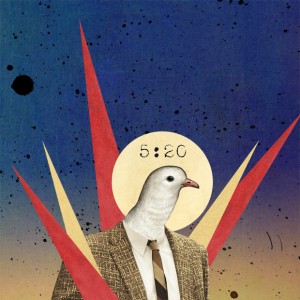 "As society struggles, with Occupy Wall Street, to articulate coherent resistance to institutionalized power, Re:Union feels particularly relevant." Colin Thomas – The Georgia Straight
"A compelling exploration of a small piece of American history, Devine proves himself a playwright to watch. Not since Peter Morgan's Frost/Nixon have I found American politics so interestingly portrayed on stage." Mark Robins – Gay Vancouver
"Re:Union is by any standard a great play; given the fine production it has been accorded, it is one which demands to be viewed by all." Alan Charlton, The B.C. Catholic
"Re:Union features moments of real clarity, humour and compassion throughout." Andrea Warner – The Westender
"Director John Langs delivers an exquisite production. Andrew Wheeler mines McNamara's arrogance and torment. Evan Frayne brings his trademark emotional nakedness. Alexa Devine's performance is intelligent and resourceful." Colin Thomas – The Georgia Straight
"Watching Sean Devine's intelligent new play at Pacific Theatre, it's impossible not to hear echoes of the Occupy Wall Street / Occupy Vancouver movement."  Jerry Wasserman – The Province
"Re:Union is theatre of the best sort: fresh, engaging, and bursting with an important, timely message. It provides a rare evening of theatre: intelligent, engaging, entertaining, and deeply thought-provoking." Brian Paterson – Laura Murray Public Relations
"A powerful and striking piece of theatre." Jo Ledingham – The Courier
"Re:Union provides a thorough moral and intellectual workout, which makes it as unusual as it is welcome in Vancouver's current theatre scene." Colin Thomas – The Georgia Straight
"A lot of theatre wants to make you think, but it's an all-too-rare experience in Vancouver that after the curtain falls, you race home to research more about a play's subject matter. Re:Union lays a claim that wars and plays struggle to achieve: mission accomplished." Andrea Warner – The Westender
"Three gripping performances." Jo Ledingham – The Courier
"Sean Devine's Re:Union is suddenly elevated beyond the history books in an engaging and clever look at a dark time."  Mark Robins – Gay Vancouver
"The show is visually spectacular. John Webber makes the space transform. A powerful sound design by Noah Drew complements the brilliant videos and computer work by Jason H. Thompson. The cast is also brilliant." David C. Jones – OUTtv
"Re:Union fulfills Horseshoes & Hand Grenades mandate – to produce tough, compelling, thought-provoking theatre." Jo Ledingham – The Courier
 Horseshoes & Hand Grenades is grateful for the support of the Canada Council for the Arts, the British Columbia Arts Council,  the City of Vancouver's Office Cultural Affairs Office and Arts Partners in Creative Development.