Written by the Company / Directed by Mindy Parfitt
Premiere production March 19 – 30, 2014. Produced by Horseshoes & Hand Grenades Theatre at Gallery Gachet in Vancouver. In association with PTC and Radix Theatre
We were overwhelmed by the critical response to this show. Check out these reviews!
This season, Horseshoes & Hand Grenades Theatre presented the world premiere of This Stay In The Room,  a collective creation based on true stories of shame and forgiveness. This Stays in the Room is courageous, revealing, humorous, and based entirely on the lived experiences of the creative team. Through text, song, photography, video and choreography, This Stays in the Room invited the audience on a very personal journey, to share a uniquely human state that is common to us all. Weaving together seven heart-rending stories – based entirely on the real lives of the creative team –  This Stay In The Room brought together several of Vancouver's finest theatre artists in what is surely one of our most intimate and revealing pieces to date.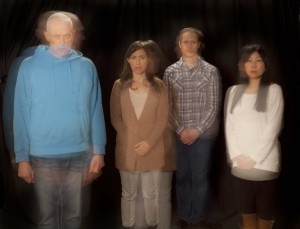 Produced in association with PTC and Radix Theatre. Written by the entire creative team, This Stays in the Room is directed by Mindy Parfitt, and dramaturged by Heidi Taylor. Performed by Allan Morgan, Alexa Devine, Robert Salvador and Manami Hara. Set & lighting design by Andreas Kahre. Video projection design by Cande Andrade. Sound design by Noah Drew. Choreography by Amber Funk Barton. Stage management by Lois Dawson. Technical director Jessica Howell. Publicity by Maryanne Renzetti. Produced by Sean Devine.