Set during a unique era in Canadian history, Except in the Unlikely Event of War is a dark political satire that explores the role of armed conflict in society, and the natural tendency towards deception as a tool for authority. A complete reworking of one of previous projects, this new piece will be developed as part of a partnership with The Diefenbunker – Canada's Cold War Museum, the unique historical site where we hope to mount this production in 2017/18, as part of the Canada 150 Celebrations.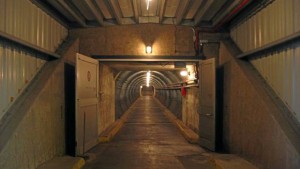 Except in the Unlikely Event of War is a theatrical adaptation of Report from Iron Mountain, a controversial book published in 1967, during the height of the Cold War. When it was released, Report From Iron Mountain was understood to be a top-secret government report leaked by a whistleblower named "John Doe" who had been a member of the Special Study Group, a diverse assembly of fifteen intellectuals commissioned to investigate the consequences society would face if and when a condition of permanent peace should arrive. Asked to pursue their task with absolute objectivity, the Special Study Group concluded that peace was not in the interest of a stable society, and that even if lasting peace could be achieved, it would not be in the best interests of society to achieve it.
This site-specific theatre project will take the audience deep underground – literally – into an architectural relic from Canada's Cold War – The Diefenbunker, a top-secret facility built in 1962 in Carp, Ontario (just outside of Ottawa), with the purpose of serving as an emergency government and military headquarters in the event of a nuclear attack on the nation's capital. As we propel our audience into a realistic experience of what it's like to be involved in a political, military and existential crisis in the mid-1960s, they'll engage in   a dramatic and socially provocative debate which will test the limits of our subjectivity, and even our humanity.
Except in the Unlikely Event of War will be developed over the next year-and-a-half as we prepare for an Ottawa production in 2017/18.