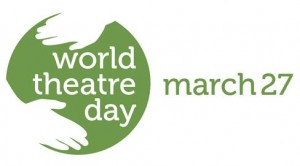 What an amazing day it is indeed, to celebrate theatre here in Vancouver. Yes, the sun-filled forecast doesn't hurt, either. But today, the artists at HHG Theatre celebrate WTD by checking out a performance of ONE from our good friends Ghost River Theatre. We're also busy creating some theatre of our own. Here's a little peek into all that we've got to celebrate here at Horseshoes & Hand Grenades Theatre.
We just got some great news that The Forgiveness Project was a recipient of a BC Arts Council Innovations grant. Congrats to Alexa, Mindy and their astoundingly talented creative team.
Sean and our partners over at Pi Theatre just completed a script workshop of Except in the Unlikely Event of War. We'll now be mounting a public reading of that new work on April 4 in partnership with SFU's Cultural Unit, as part of HHG Theatre's Pull the Pin community engagement series.
Also part of Pull the Pin is an upcoming event in partnership with Neworld Theatre for a public reading of Arthur Milner's provocative new play Facts which is now playing in the UK after touring Israel / Palestine. That event will take place at Progress Lab 1422 on April 27, along with a panel discussion and klezmer punk party to follow!
We're still preparing to release some info about our upcoming 2014 tour of Re:Union, which will feature a U.S. premiere, a local remount, and a very exciting Canadian festival.
And finally, we're in the midst of developing a new partnership with New York's Epic Theatre Ensemble as well as Seattle's ACT Theatre, as we lay out the initial groundwork on Sean Devine's new play Daisy.
Finally, we'd like to play the 2013 Canadian World Theatre Day message, commissioned each year by PACT, PGC, and l'Association des théâtres francophones du Canada. This year's message was written and read by director, dramaturg and artistic director Micheline Chevrier
Have a great day!